If there is one thing that clients and customers love, it's great service. Whether you are serving coffee or providing legal services, a top priority should always be to deliver the highest level of customer care possible. Several years ago, American Express conducted a Service Study, finding that 63% of consumers felt their heart rate increase (in a good way) when they received great customer service. Delivering the best service is hard work, and we know that keeping your business running is difficult enough. Fortunately, technology is making this task easier. Here is where we see the future of customer service headed and how tech is pushing us to new levels of customer care.
AI and Customer Service
Artificial Intelligence (AI) is a technology that is going to touch nearly every type of business in the next decade. According to Forbes, 38% of enterprises are already using AI, and that number is expected to increase to 62% in the next year. AI is projected to be a $47 billion market by 2020, and much of this technology is currently being employed for customer service and sales.
First, AI consists of a variety of digital platforms with "machine learning" capability. Most have speech recognition technology and are programmed to make decisions based on pre-determined rules. An AI system for customer service, for example, might be able to answer some basic customer service questions on an automated basis. Even if the questions isn't basic and needs your assistance, the system will "learn" the answers in the event the question is asked again.
Apps for Customer Service
While there might be some Apps that have limited AI capability, the most advanced of these are probably still a few years out. What we have now are Apps that allow a client to make an appointment with your office. For example, some law firms use an app called SetMore, which can be installed on the firm's website. Clients can directly schedule an appointment, which then syncs with Google Calendar.
Not all businesses wish to use a direct scheduling app for several reasons. The first is that the calendar could be inaccurate, which could lead to client dissatisfaction when appointments need to be changed or canceled. The second is that this is a completely impersonal approach to customer service. No matter what type of business you're in, it's always best if someone speaks to a human being before scheduling an office appointment. This is why we recommend using a professional answering service like the one provided by Answering365. Our live call operators will answer your company's phones 24/7 and can schedule appointments according to your specifications.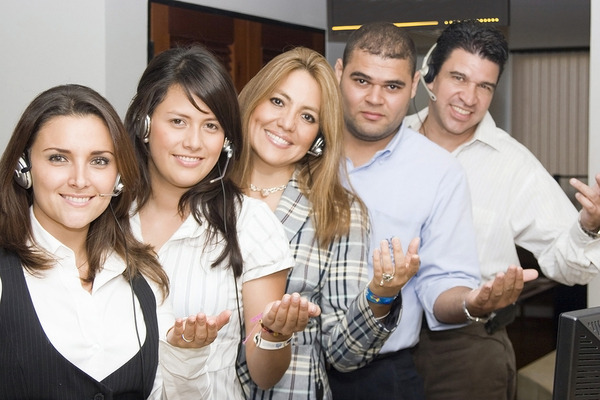 Video Valets
Face to face interaction with clients is one of the best ways to instill confidence. Many of us have become accustomed to using "on-demand" face time over technology with friends and family for several years. Now, we can do this with some of the businesses we hire as well. For example, Amazon Fire HDX tablet owners can hit a "Mayday" button and speak to an Amazon customer service rep via the device's web camera.
You can use video in several ways to help your business' customer service scores. The first is to use video to deal with customer service and complaints. The second is to use video for routine conferences and product or service education.
Partnerships and Alternatives
Let's face it - we can't be all things to everyone. The idea is to be the best in the business at what you do, and leave other areas to someone else. Major brands are beginning to see that they can serve their customer's needs through some strategic partnerships. For example, BMW came out with its i3 electric car that has a range of 160km. For new customers with "range anxiety," the company offers a significant discount on on-demand gas-powered car rentals through a partnership with Sixt.
eBay is now offering some consumers a choice on delivery. If home delivery isn't convenient, they can choose to have purchases sent to a local store for pick-up. The idea is to give options to clients and forge strategic partnerships that will let your customers know that you have their best interests in mind.
You can also consider how much of your company's resources you are devoting to answering your phones, scheduling appointments, and dealing with emergencies. In many cases, it's significant. By using a professional answering service instead, you can concentrate on serving your clients' needs. Our answering service will act as an extension of your business, giving clients the feeling that they've reached your front office. Answering365's emergency dispatch service can also handle all of your company's and clients' urgent needs with its ability to re-route calls according to your instructions.
Combining Tech with Care
While technology is making many processes simpler for businesses and consumers, it's often the case that the personal aspect of the business gets left in the dust. It would be a mistake to allow this to happen as your particular brand is what brought customers to you in the first place. Respect, kindness, and a true interest in serving customers is what pays dividends in the end. If your tech choices don't deliver on all fronts, it might be time to step back and make sure that your customer service plan still has enough of the human touch.
A professional answering is just one of the ways that you can deliver both a higher level of customer service and do with a friendly voice. Answering365's answering service has live call operators who are friendly, personable, and highly-trained in each industry. Calls are answered quickly, and each call operator understands the needs of your business and its industry's terminology.
Answering365 is an award-winning U.S.-based answering service that serves a variety of industries. Contact us to learn more about how our answering services can help your business or to start a free trial.